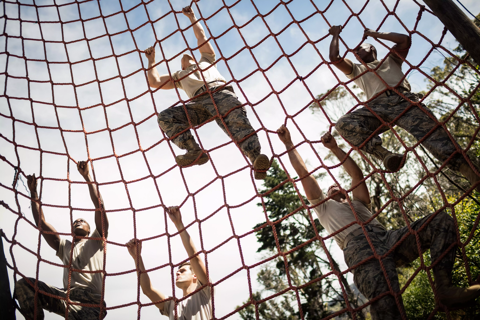 Yes, Members of the Armed Forces can claim compensation in two ways – either through the Armed Forces Compensation Scheme or through the civil courts, if they're still serving.
Armed Forces Compensation Scheme (AFCS) Claims
The Armed Forces Compensation Scheme (AFCS) is run by the Ministry of Defence and is available to current and former Armed Forces personnel. Its aim is to award compensation to personnel whose illness or injury was caused as result of service. It is a no-fault scheme, so the payment awarded is not dependent on proving blame. Instead, it simply needs to be shown that an injury was sustained while in service, including combat and conflict situations
Time Limits For Making an AFCS Claim
If your accident or illness happened on or after 6 April 2005, you can make an AFCS claim. If it was before that date, you'll need to apply to a different scheme, called the War Pensions Scheme.
In general, AFCS claims must be lodged within seven years of the date of the incident. However, there are some exceptions:
Conditions or illnesses. Claim forms must be submitted within three years of seeking medical advice
A service man or woman's death. The claim must be brought within three years of the date of death
What Can I Claim Compensation For?
There is a tariff table for each injury or illness. The amount of compensation you get will depend on how serious your injury or illness is. The ACFS tariff classes each injury from level 1 – 15, being the most severe. You can see a list of injuries and tariffs on the Gov.UK website, but we'll be happy to talk this through with you when you get in touch.
Who Pays My Compensation?
The Ministry of Defence has a separate budget allocated specifically to military claims. That means that if you're still serving in any branch of the Armed Forces, the compensation awarded to you won't affect your unit's funding.
The fact this budget exists is also a recognition from the Ministry of Defence that service personnel have a legal right to claim compensation for an injury.
Making a Civil Claim
Life in the military is often very physical, but the injuries service personnel sustained aren't always part-and-parcel of the job.

Sometimes, negligence on the part of the Ministry of Defence (MoD), commanding officers or third parties could be the cause of injury and may form the basis of a civil compensation claim. If the organisation responsible for safeguarding your working conditions and your welfare failed to do so, you may be able to hold them to account with a military injury claim.
Can I make a civil claim and an AFCS claim?
Yes, you can claim for compensation through the Civil Courts alongside making an AFCS claim. Any compensation awarded from the AFCS will be offset against the award the Court makes.
Time Limits For Civil-Military Compensation Claims
You have 3 years from the date of your accident in which to take legal action. Because of the strict time limit, we'd recommend that you speak to a specialist Military Claims Solicitors as soon as you can. It's often easier to gather evidence such as medical records and accurate witness statements if you start the claims process sooner rather than later.
What Can I Claim Compensation For?
Compensation from civil claims tends to be much larger than in AFCS claims. That's because a civil claim is there to put the injured person into the same position they would be if the accident or negligence hadn't happened. The compensation takes into account past and future loss of earning and both physical and psychological injuries.
Our Military Claims Solicitors will also assess the cost of any care, treatment and rehabilitation you may need.
Our team of experts have a strong track record of helping injured service personnel recover substantial sums of compensation, so if you have any questions about making a claim, get in touch for a free consultation.
There's no obligation to make a claim if you speak to one of our specialist solicitors, so get in touch today.
Military Service Law
Military Service law is complex with its own rules. There are very strict time limits to raise issues so we recommend that you get early advice.

Serving or former members of the UK armed forces can make a service complaint if they feel they have been wronged on an issue that happens when they are subject to service law.

This can include complaints of bullying, harassment, discrimination and biased, improper or dishonest behaviour.

Individuals intending to make a service complaint are advised to read Redress of individual grievances: service complaints (JSP 831) or to seek advice from our specialist team who can give help and advice with service complaints, advice in respect of AGAI 67 matters, and military tribunal work (race and sex discrimination claims, including sexual harassment).
Would you like to speak with one of our Military Claims Specialists?
Fill in your details and one of the team will call you back or if you need to speak now call us on 0808 239 0244