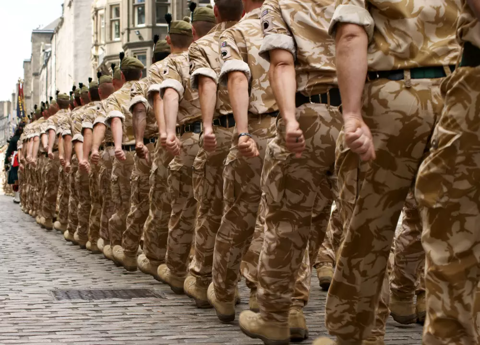 Armed Forces Compensation
There are a number of compensation schemes available to British armed forces service personnel, and their families in the event of a life changing injury, or fatal accident, provided the injury was suffered in the course of the military service of the individual. The relevant statutory compensation schemes are administered by Veterans UK, an organisation within the Ministry of Defence (MoD). 
In cases where injury, illness or death was caused by service before April 2005, compensation awards are made under the Armed Forces Attributable Benefits Scheme, and War Pensions Scheme.
Any accident or injury claims presented subsequently proceed under the Armed Forces and Reserved Forces Compensation Scheme and the Criminal Injuries Compensation (overseas) Scheme.
Compensation awards of up to £650,000 are available under the Armed Forces Compensation Scheme, and up to £500,000 under the Criminal Injuries Compensation Scheme.
Additionally, a Guaranteed Income Payment may be available for more serious injuries under the Armed Forces Compensation Scheme.
It is important to bear in mind that there are time limits for making a claim. For the Armed Forces Compensation Scheme, the claim must currently be presented within 7 years of the date of the injury, and with the overseas criminal injuries scheme within 2 years.
Veterans UK itself, and organisations such as the Royal British Legion, will offer advice and assistance towards ensuring that individuals receive their full entitlement to compensation.
Claims under Civil Law
A compensation claim under the civil law should also be considered. Many injured service personnel, to their credit, are reluctant to investigate a possible civil claim, out of loyalty to their former employers. 
However, it is always recommended that injured armed forces service personnel should get preliminary legal advice if they believe a civil claim may be available. A general rule is that there is a 3 year time limit from the date of the relevant incident to pursue a civil claim. 
We have spoken to many injured military personnel, and veterans over the years, who have had a strong case, but have only sought legal advice when it is too late. On the basis that civil claims typically award significantly higher amounts of compensation than claims under the statutory schemes, so it's best to speak to a specialist Solicitor regarding any incident, or series of incidents, which have resulted in a significant injury as soon as possible.
Our Personal Injury Solicitors that specialise in Military Claims are happy to offer a free initial consultation by phone, and will discuss the options of proceeding with a civil claim, and with a potential claim under the statutory non-fault schemes.
We do understand that it's a devastating blow for many servicemen and women to receive the news that they are to be the subject of a medical discharge. Along with the huge disappointment of the early, and enforced end of their career in the armed forces, the individual has to contend with a host of uncertainties about the future, regarding financial security, finding a safe and secure home, and protecting the interest of families.
Would you like to speak with one of our Military Claims Specialists?
Fill in your details and one of the team will call you back or if you need to speak now call us on 0808 239 0244