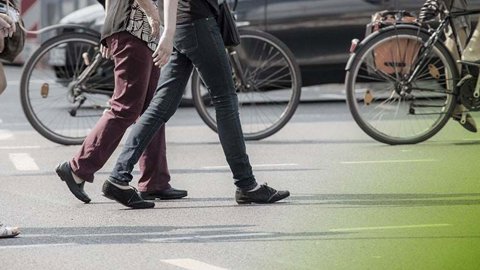 Injury Prevention Week: Keeping Pedestrians and Cyclists Safe
Posted on: 3 mins read

Susan Vanden
Partner, Road Traffic Accident Technical Manager
Since lockdown restrictions started to ease across England and Wales, drivers have flocked back to the roads, potentially increasing the risk of road traffic accidents involving cyclists and pedestrians.
A new poll by YouGov for the Association of Personal Injury Lawyers (APIL) suggests a lack of road safety knowledge could be one key factor behind pedestrian and cyclist injuries. For example, only 44% of non-drivers said they know to look out for reverse lights to tell if a car is about to reverse into them.
The survey was published to mark Injury Prevention Week, a national campaign by APIL for the Government to make preventing injury a bigger priority. In 2018, an estimated 27,811 serious injuries happened on UK roads, but as the Institute of Public Policy Research points out in a new report, the actual number could be much higher, as non-fatal injuries often aren't reported to the police.
Road deaths and injuries have a devastating human costs, and since pedestrians and cyclists are more vulnerable to serious injury than car drivers, preventing injury among pedestrians and cyclists must be a priority if we're to safely venture out again.
More Active Travel Creates New Risks
Since the Government announced a £2 billion package for 'active travel' in the UK, there's been a huge increase in bike sales as more people choose to more active ways to travel around. As of last month, it also became legal in the UK to ride rental e-scooters, as the Government continues to offer new ways of travelling in a socially-distant way.
Again, the use of rental e-scooters could pose a risk to those who have never used them before, especially if they're taking them on busy roads.  
What is the Government doing to Prevent Road Accidents?
Thankfully, many Local Authorities across England and Wales are putting measures in place to keep cyclists and pedestrians safe. For example, some cities, such as Bristol and Manchester, have made certain roads cycle and pedestrian-only roads to control traffic.
Other measures authorities are putting in place include:
Wider pavements
Segregated cycle lanes
Traffic light signalling systems for pedestrians and cyclists
Increased CCTV use to issue penalty charges for car drivers who use cycle lanes illegally
Local Authorities have a duty to make roads safe for all road users. As a cyclist, motorcyclist or even as a pedestrian, hazards such as a pothole in the road can put you at risk of an accident.
If you've been injured on the road and it wasn't your fault, our Road Traffic Accident Solicitors can help you. We offer a free claims assessment and legal advice, so we can talk through your situation and what options are available to you.
What Can You Do to Keep Safe?
However you decide to travel, it's important to take steps to protect yourself where you can. Ideally, you should only travel when you need to. Unless you're travelling for work at a certain time, it's best to travel during non-peak times when there's less traffic, particularly if you're riding a bike or motorcycle.
If you're a cyclist, other good measures you can take include:
Doing safety checks of your bike before setting off
Wearing a helmet at all times
Wearing reflective/hi-vis clothing, especially if you're cycling at night
Using designated cycle lanes wherever possible
Indicating in plenty of time to allow more time for cars to see what you're doing
Using a cycle cam, so you've got evidence in case you have an accident
Always taking extra care at junctions and blind corners
As a pedestrian, you should always use pavements, pedestrian lanes and footpaths if possible. You might have got complacent crossing roads during lockdown because of the reduction in traffic, so it's important to make sure you're checking for cars and cyclists before crossing the roads now lockdown has been relaxed.
Even with safety measures in place, accidents can and do still happen on the roads, and it's often cyclists, pedestrians and motorcyclists who are most vulnerable and likely to suffer serious injuries.
If you're injured on the road as a pedestrian, cyclist or biker and it wasn't your fault, you could claim compensation. Our Road Traffic Accident Solicitors have helped many people secure compensation after being injured in a road accident, so they get the compensation and access to care, support and rehabilitation they so badly need.
Contact us for a free claims assessment so we can discuss how we can help you.
Get in touch, today!
Fill in the form below to get in touch with one of our dedicated team members, or call our team today on: 0808 239 6443