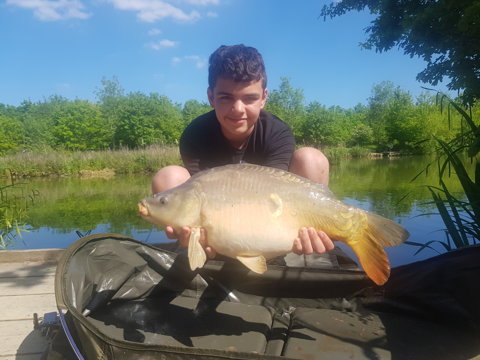 Mason Clark was just 14 years old when he died in September 2021. An inquest identified 'missed opportunities' to help Mason ahead of his death. Mum Jessica says outdated systems and a lack of resource is putting young people at risk
A grieving mum has called on the authorities to carry out an 'urgent and comprehensive' review of the support available to young people who are struggling with their mental health after an inquest into her son's death recorded a narrative verdict. 
Mason Clark (Brush) was just 14 years old when he was found to have tragically passed away near his home in West Grinsted, Horsham, on the afternoon of September 27th, 2021, having struggled with his mental health for a number of years.
Following his death his mother, Jessica, raised concerns about the level of support available to Mason, as well as the lack of communication between the relevant authorities – including his school, his GP, his counsellors, as well as the Youth Emotional Support (YES) service (run by West Sussex County Council), the met police, and Multi Agency Safeguarding Hub (MASH).
At an inquest into Mason's death which concluded this week at West Sussex Coroners Court, evidence was heard that in addition to the poor information sharing between agencies, there is also a lack of provision and accessible support for children who are struggling with their mental health.
Jessica was represented at the hearing - the latest in a series of inquest relating to the deaths of young people in the local area - by public law experts at Simpson Millar, Barrister Nick Armstrong, and was supported by the charity INQUEST.
At the end of the hearing Senior Coroner Penelope Schofield said she has already written to the Department of Health and Social Care regarding funding of children's services, and that she was aware services in West Sussex are overwhelmed.
She went on to say that as part of her narrative conclusion in relation to Mason's death, she will include details of missed opportunities to share key information between agencies, which meant the extent of his struggles with his mental health had not been fully appreciated or treated.
Speaking following the findings of the Coroner, public law expert Chris Callender from Simpson Millar, said the findings of failures that came to light during both Mason's inquest and others must now act as a 'catalyst for change'.
He said: "It is deeply concerning to learn of the failings in the care Mason received, particularly in relation to a breakdown in communication across the key agencies, which meant that he was unable to access the help and therapy that he needed, when he needed it.
"This is the latest in a string of inquests during which issues relating to resource, communication across agencies and access to suitable provision have been heard time and time again. In some cases, these issues also resulted in missed opportunities to help these young people, and potentially save a life.
It is deeply concerning to learn of the failings in the care Mason received
"Mason's family are understandably devastated by their loss, and it is their hope that the findings of the coroner will act as a catalyst for change. Not only in Sussex and the Southeast, but across the country as a whole."

Public Law and Human Rights Solicitor

Chris Callendar
Jessica is now working with other professionals, as well as Mason's friends and family in a bid to put measures in place to help prevent others taking their own lives.
She is also calling on the Government to establish a dedicated action group to carry out a review of the services available to young people, and to bring together people with a range of expertise and experiences to better meet their needs, including representatives from education, the police, social services, the NHS and private businesses.
Commenting on her loss and her call to action, Jessica said: "Mason was an inventive, funny and kind young man with so much to live for, and people who loved him dearly.
"For many years he fought with his mental health, and as a family we tried everything in our power to help him, but the tragic reality is that the various traumas he went through and the way that Mason processed information simply isn't supported by health, education or social care systems.
"He is like thousands of other children, struggling but unable to meet a threshold that isn't designed for today's need. The 'unsupported missing middle'.
"I say this as someone not only who has lost a child, but as someone with first-hand experience of the challenges and constant roadblocks experienced by those who work in the industry.  
"I can't change what has happened to Mason and my family, it's a pain I will carry forever, but I can fight to make changes in order to try to prevent others suffering as we have moving forward."
Our clients rate us as
'Excellent'

4.5 out of 5 based off 2453 reviews
Jessica added that while she recognised the hard work of many people working across the relevant agencies, resource and outdated systems and processes are preventing them from sharing information easily. Information that could help to save a life.
She added: "There are some really good people who are really trying to help across education, the police, health and social care, but they are under resourced and using antiquated systems that prevent easy information sharing.
"Most areas have also lost their youth centres and youth workers who would previously pick up the preventative type of work so that children had someone outside of their home to confide in. 
"Time and time again we are losing children because we don't make these professionals jobs straightforward to enable them to focus on relationships, building trust and confidence, for children to share their feelings honestly, and instead these jobs disappear or become more about form filling.
"Fundamental change is needed to address these problems on a macro level, and I am calling on the Government to carry out an urgent and comprehensive review of what changes can be made to better meet the needs of these young people, and to bring together the right people to make it happen.
"I'm also working with Mason's friends and have set up a group called Make Some Noise in a bid to ensure Mason's legacy lives, and so that we too can make positive changes on the ground."
Make Some Noise is raising funds to support a number of mental health charities and initiatives, and in a bid to campaign for:
Better mental health support in schools
Suicide prevention awareness for adults and young people
Education for young people on algorithms, digital information and critical thinking
Better support for professionals to help them identify red flags & talk to parents and carers
Facilitate better, ethical information sharing
A Go Fund Me page has been set up in Mason's memory.
Want to speak with our Public Law and Human Rights Solicitors?
Fill out your details and one of our team will call you back or call us now on 0808 239 1344