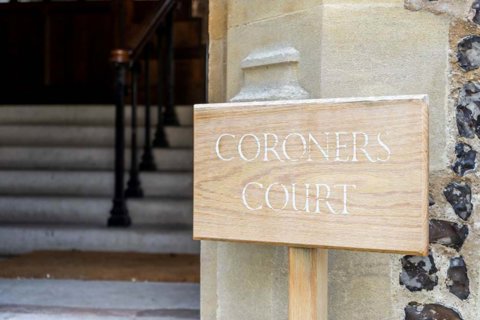 The Senior Coroner for Brighton & Hove is to write to NHS England over concerns about the lack of power that some hospital staff have to stop patients who are at risk of suicide or self-harm from leaving Emergency Departments.
The Prevention of Future Deaths (PFD) report follows the death of Rachel Garrett, from Hove, who was just 22 years old when she died after falling from cliffs near Brighton Marina on 29 July 2020.
At an inquest in Brighton which concluded earlier this month, HM Coroner Penelope Schofield delivered a narrative conclusion, saying that there had been a 'missed opportunity' to save her life by preventing her from leaving A&E on the day of her death.

Throughout the two-week hearing evidence was heard that Rachel's death was her sixth suicide attempt in just four weeks. Her family – who describe her as a courageous, fun, sensitive, loving person who made friends everywhere she went - had been desperately fighting to get her readmitted to a secure mental health ward for treatment and support.
However, despite their concerns, on 28 July, Rachel was taken to Royal Sussex County Hospital after being found on a clifftop.  
At 12.23am on 29 July, Rachel absconded from the hospital. She was found by police shortly afterwards and taken home. Again, her parents asked police for Rachel to be sectioned but instead she was taken back to A&E for a mental health assessment. 
Rachel was placed under one-to-one supervision by a healthcare assistant, but despite the mounting evidence of increasingly risky behaviour Rachel was able to leave the hospital again. 
She was reported missing to police at 3.47pm.  
An hour later, Sussex Police located Rachel on the same clifftop as the previous day. Police officers and a mental health nurse approached to talk to her, and she edged closer to the cliff edge. Rachel fell from the clifftop and was declared dead at 6.03pm. 
In the narrative verdict delivered on Friday, June 2nd, Senior Coroner Penelope Schofield said that there was a 'missed opportunity' to prevent Rachel from 'leaving the Royal Sussex County Hospital for the second time on 29 July', and that it seemed to her that individuals facing a mental health crisis can 'easily leave this setting when it's not in their best interest to do so'.
Speaking following the inquest the family's lawyer, Chris Callender, supported by the charity INQUEST, explained that under current guidelines only staff employed by the acute trust - the trust running the actual hospital - can use holding powers.
The Royal Sussex County Hospital is run by University Hospitals Sussex NHS Foundation Trust, but the mental health team are employed by Sussex Partnership NHS Foundation Trust.
Chris Callender said: "It is a bizarre and irrational situation that the coroner found that people, who are extremely distressed with mental health problems, are brought to accident and emergency departments where the mental health staff are unable to detain them, because they are not employed by the trust that runs the hospital.
"We welcome the coroner's decision to issue a prevention of future death report which will bring the issue to the attention of NHS England, with the potential to save the lives of other patients who find themselves in desperate need of support and intervention."
Sarah and Andy Garrett, Rachel's parents, said that while they were 'really pleased about the Prevention of Future Deaths report', which they believe will be of 'huge significance and hopefully beneficial to other people', they also felt that, in her final month, the Mental Health Services in Brighton and Hove had played 'Russian Roulette' with their daughter's life. 
They added: "Much emphasis has been placed on the day of Rachel's death, yet in reality we had been desperately seeking help for many months. Looking to the relevant authorities to provide a comprehensive plan of action that would meet her needs.  
"As her behaviour became increasingly risky, she should have been admitted to a secure mental health ward for treatment and support. 
"Instead, we feel Sussex Partnership NHS Foundation Trust spectacularly failed to take into consideration all of the risk factors when assessing Rachel. As her parents, they should have also taken into consideration our concerns when making decisions. We should have been heard, but we felt we never were." 
The family is now supporting Martha's Rule, a new campaign which is due to go live in the coming months which is focused on ensuring that patients and those closest to them are listened to and their views taken into account by healthcare professionals.
Rachel was repeatedly failed
"Rachel was repeatedly failed by the services tasked with keeping her safe. Like so many other young women, her distress was dismissed and ignored to the extent that a police officer was willing 'to take a risk' on her safety.  Her death will be added to the long list of young women who died trying to access support. Their stories must be the wake-up call that leads to investment in non-punitive mental health care and crisis intervention teams, delivered with and by communities."

Caroline Finney

Caseworker at Inquest
Our clients rate us as
'Excellent'

4.5 out of 5 based off 2457 reviews
If you would like to speak with our Public Law & Human Rights Solicitors
Fill out your details and one of the team will call you back