Our client, Phil, had a motorcycle accident after being hit by a car. He suffered serious injuries, and as a result had to have his right lower leg amputated. 
We helped Phil with make a claim for the amputation injury which paid for private rehabilitation, a prosthesis, adaptations to his home, a new trike and his claim was settled in just 12 months.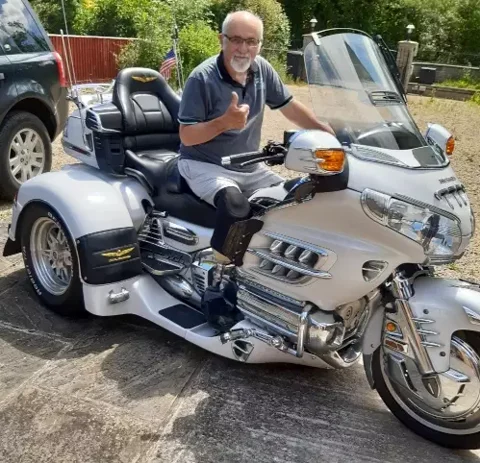 Phil is enjoying his new trike and you can read his full story below:
Phil and his wife Suzy ran a motorcycle training school together – Phil did the training on the motorcycles and Suzy dealt with the admin. They built their business up together over many years and often worked 7 day weeks.
Six years ago, Phil and Suzy decided it was time to retire and they sold their business and moved into a new home, a bungalow, which they spent time and money improving. They were enjoying their retirement walking with their Cockerpoo, called Sadie, enjoying going to Country and Western clubs and Phil enjoyed riding his motorcycle. He would ride with his friends, once a week, riding around 100 miles.
The Collision- How it happened
On 3rd July 2020, Phil was riding with two of his friends. He was at the front of the group, with his friends in single file behind him.
Suddenly a car veered across the road and hit Phil on the right side of his bike and grazed his friend's bike directly behind him.
Phil had a dashcam on his bike and the police told him after viewing the footage that they heard him say 'God, that hurt'. He managed to stay on his bike and pulled over to the side of the road. He got off his bike and put it on its stand.
He looked down at his right leg and saw that his foot was at a 90 degree angle, with his bone stuck out of his boot.
Phil friend, who was riding behind him was grazed by the car and  hit by debris from Phil's bike, but managed to stay on his motorcycle. His other friend saw the whole accident unfold before him and it's taken a long time for him to come to terms with that day.
The Car Driver responsible
Phil later found out that the person driving the car that hit him was an 18 year old man - a farm milker working across 2 herds. He had fallen asleep at the wheel of his car, causing him to collide into Phil and his friends.  
He was charged with driving without due care and attention. Suzy doesn't feel this is harsh enough and in the end, because of Covid delays, they asked Phil if he still wanted him to be charged or simply attend a police driving course. Phil opted for the latter.
The young man wrote Phil a letter apologising to him and saying how sorry he is and that he hopes he doesn't hate him for the accident. Phil remains very stoic about it all – he said that everyone has driven when they're tired, but most of us get away with it. Suzy, on the other hand, is still understandably very angry about the situation.
Getting Help in the Immediate Aftermath
Phil was airlifted by helicopter to Southampton General Hospital, where the surgeon told him that he had a choice – he could keep his leg, but he would spend the rest of his life in and out of hospital or he could have it amputated.
Phil quickly decided to have it removed.
He spent 3 weeks in Southampton and then a week in his local hospital in Taunton before he went home. When he got home at the beginning of August, he was wheelchair bound because he needed to book into the Limb Centre in Exeter.
Unfortunately, due to a mix up, the clinic didn't realise that Phil had lost his leg through trauma, so was put to the back of the waiting list.
Phil and Suzy looked into getting help privately and went to Dorset Orthopaedic. It was lucky that Phil did, as he was quickly told he would have been wheelchair bound and unable to use a prosthetic leg if he'd waited for the NHS clinic.
How did the personal injury claim help Phil?
Phil and Suzie also had to get their bathroom quickly adapted into a wet room so Phil could access it in his wheelchair. It cost £8,000 and when Rose, our Personal Injury Solicitor who was helping Phil, asked the insurance company to pay for the adaptations, they told her that they weren't in the business of financing home improvements. Even after the stress and worry of the accident and coming to terms with his injuries, getting even basic needs met through the person at fault's insurance company is challenging.
That's why having a specialist Serious Injury Solicitor on your side, fighting for you can really make a difference.
"Rose did a brilliant job. She was nice, really down to earth and not at all like a fancy lawyer person. Rose visited Suzy while Phil was still in hospital and she was told it could take 3 to 4 years to get money from the insurance company, but thanks to Rose, my claim was settled very quickly. She also arranged for the insurer to pay us out some interim payments to recoup some of the money we'd had to pay out from our savings."
Rose Gibson was his solicitor and she worked on the personal injury claim for Phil. She said:
"I made it clear to my opponent that I did not want Phil spending the next few years in litigation as he was a very independent man who still wanted to live his life to the full.
"I was fortunate that my opponent saw the sense in this and because there were life expectancy considerations, an early but very reasonable settlement was negotiated within just 8 months of the collision occurring. I wish they were all as straightforward as this, but it goes to show that it does not always have to be complicated, especially when you have a sensible opponent."
Recovery
Phil has been regularly visiting the private clinic and is already on his third socket and will have his permanent socket fitted in September. Once this is ready, he'll be looking to get an electronic ankle so he can get back to feeling a bit more normal.
Without the electronic ankle, he can't walk downhill easily, which is an issue as the path from his house is downhill, and when it's wet it can be a bit challenging.  
Phil had to use an NHS wheelchair, which has affected his neck, left hand and arm and as he is left handed, he really struggled to do anything like eating or writing. The nerves in his left arm have been damaged and he has developed carpel tunnel syndrome too. He's had surgery for carpel tunnel and with physio, he can now eat and write but still struggles to fold his fingers in the morning, and has little feeling in his hands.
He doesn't use his chair now except when he goes to bed (in case he needs to get up in the night). Phil mentioned how difficult it is to get out of bed with only one leg, but he'd developed a method of how to do it.
One of the worst things Phil has encountered after his injury is the phantom leg pain he suffers. Even 1 year after losing his leg, the pain in the foot that isn't there anymore is excruciating – he describes this as 'a probe being stuck in his foot and being given an electric shock'. He has medication to use when the pain is really bad and has been having aversion therapy, but he says he can still feel his foot on the ground.
How the Collision Affected Phil and Suzy
Phil was still working at the time of the accident. He was driving a bus at night, but his injuries meant that he couldn't go back to work anymore.
Additionally, Phil can't drive a car with conventional pedals any more either, so he has lost his ability to just pop out when he wants to, as Suzy always has to drive him.
Because he was already claiming his pension when he lost his leg, he isn't eligible to get a Motability vehicle through the scheme so has had to pay for an automatic vehicle, with a left foot accelerator and duel peddles so Suzy can also use it, from his compensation. The car won't be arriving into the UK until November due to production issues and it will still need to be altered once it gets here.
Phil's Positive Attitude and Strength
Despite the pain and all the challenges, Phil still stays positive. He said:
"Every day that goes by I can do more and more. I've now learnt to pick stuff off the floor like a golfer does, with my prosthetic stuck out behind me.
"Every week and month that goes by, things get better. I can now almost get up like I have 2 legs even though age is against me. A younger person can adapt to things more quickly – although I don't really act my age, that doesn't help me here!"
Phil continues to push on, with Suzy supporting him and he's also back out riding.
After the accident, he always wanted his bike back. He got it back from the insurers and found a firm in Yeovil, who rebuilt it for him.
Suzie didn't want him to ride it with 1 leg, so he found a trike and bought it and reluctantly sold his other bike.
But Phil loves his new trike – he's really chuffed with it. He can ride it short distances and is getting used to riding it as he can't get his leg in the position he needs to, but he's loving the chance to get back and do what he loves.
Get in touch, today!
Fill in the form below to get in touch with one of our dedicated team members, or call our team today on: 0808 239 3227