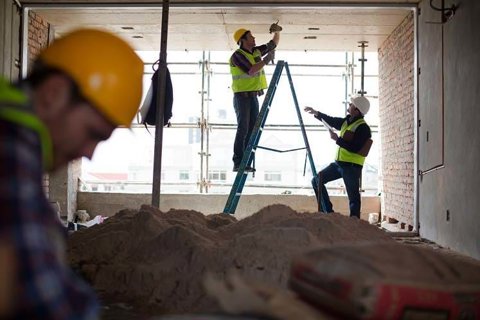 Latest HSE Statistics Highlight Increase in Fatal Accidents at Work
Posted on: 2 mins read

The Health and Safety Executive (HSE) regulates workplace health and safety in Britain. Its aim is to prevent work-related injury, fatal accidents and ill health. But the latest statistics released by the HSE have shown that while there's been a reduction in non-fatal work injuries, there has unfortunately been an increase in fatal accidents.
We'll go through each of these areas in more detail below and explore the meaning behind the latest statistics. For more information tailored to your situation, get in touch with our Personal Injury team.
Why has the Number of Fatal Workplace Accidents Gone up? 
In 2020/21, 441,000 workers suffered non-fatal injuries, which is a significant decrease from 693,000 in 2019/20. This decline could be because of people continuing to work from home, but this doesn't explain why the number of fatal work-related accidents has increased.
142 work-related fatal injuries were reported to RIDDOR in 2020/21, compared to 111 in 2019/20. It's important to note that because of RIDDOR's reporting criteria, these figures don't include fatal work-related diseases or fatal accidents on non-rail transport systems.
Fatal accidents are fortunately rare, but they can happen at random and there is a degree of chance involved in the final statistics at the end of each year, which could go towards explaining the increase. But what is actually causing these deaths?
What are the Main Causes of Death in the Workplace?
The main cause of work-related fatal accidents continues to be falls from a height, which accounted for 25% of fatal accidents reported in the HSE's latest statistics. Some others include:
being struck by a moving vehicle;
being hit by a moving object;
trapped by something collapsing;
contact with moving machinery.
Who is the Most at Risk of Fatal Workplace Accidents?
Just over half of fatal injuries caused by falling from a height came from the construction sector. The construction industry also suffered the most workplace fatalities overall in 2020/21, followed by:
agriculture, forestry and fishing;
manufacturing;
transportation and storage.
As well as highlighting the risk to construction workers, the HSE statistics also demonstrate the heightened danger for older and self-employed workers:
Older workers – around 30% of workplace fatalities in 2020/21 were of people over 60, despite only making up around 11% of the workforce in Britain. This is a similar figure to what has been seen in earlier years.
Self-employed workers – 38% of work-related fatal accidents affected self-employed workers, who make up 15% of the British workforce. This was higher than previous years. In the five-year period of 2016/17-2020/21, 31% of fatal injuries were suffered by self-employed workers.
What has Been the Response?
After publishing the statistics for 2020/21, HSE reinforced their commitment to making sure employers are acting in the best interest of the safety of their employees. But they've stated that where employers fall short of the standards expected, they "will not hesitate to hold those responsible to account."
If you've lost a loved one because of an accident at work, the idea of taking legal action can be extremely daunting. Our expert team of Personal Injury lawyers are here to listen whenever you're ready. We'll help you work out the next steps to getting the support you're entitled to.
Get in touch, today!
Fill in the form below to get in touch with one of our dedicated team members, or call our team today on: 0808 239 3227