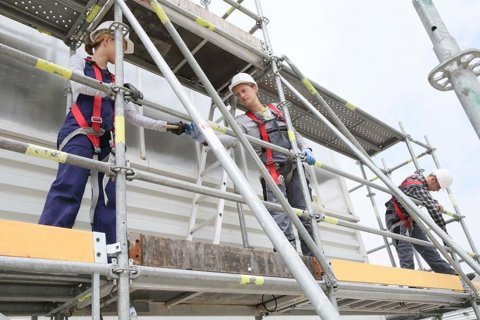 Bricklayer Suffers Spinal Cord Injury after Falling from Scaffolding
Posted on: 3 mins read

Paul* was a self-employed bricklayer, who was contracted by a company providing building services on a construction site.
He was working with several other contractors on a new accommodation block when he had to climb up to the upper level of some external scaffolding to start work on the internal gables.
As he was doing this work, Paul stumbled backwards, but as the scaffolding was unguarded, he fell through to the next level, and his back struck a steel transom. This caused him to fall a further two metres through a further gap in the scaffolding and he landed on the ground.
How the Spinal Injury Affected His Life
Paul sustained spinal injuries as a result of the fall, and couldn't work for a year after the accident as his back pain caused mobility problems.
He had been determined to get back to work despite his pain, and he did try returning on a part-time basis for about three months. But unfortunately, the pain he was suffering really flared up when he was trying to work, and he eventually had to stop working as he couldn't cope with the pain.
Paul already had a pre-existing back condition before the accident, with degenerative changes in his spine causing him to suffer from back pain in the past. This had largely been resolved and been well under control, to the point where he hadn't needed to see his GP to report any back problems in several years. But this accident at work really set him back and caused him significant pain.
Paul got in touch with our expert Personal Injury Solicitors for a free claims assessment to discuss claiming compensation. After listening to his story, we felt he had a strong claim for compensation, and we agreed to take on his case on a No Win, No Fee basis.
How We Helped Paul
I investigated what caused Paul's building site accident and found that guard rails hadn't been put up on the scaffolding in the area where he had to work. I also discovered that no air bags or netting had been put in place to minimise the risk of a fall from height.
We pursued a claim on his behalf against both the principal contractors on the building site who had subcontracted the employer our client was working for and also the scaffolding company who had put the scaffolding up.
Both firms denied responsibility for the accident and blamed each other, so we had to issue Court proceedings against them. The two companies continued denying responsibility, and also argued that Paul himself had been partly negligent.
Despite these problems, we fought on, as we strongly believed that both defendants were responsible for the accident. We obtained witness statements to support our claim and also arranged for Paul to be assessed by a spinal surgeon.
The spinal surgeon concluded that the accident had made Paul's back condition worse and caused him to suffer an acute flare-up with symptoms which were much worse than he had previously experienced.
He accepted that it wasn't suitable for our client to return to his manual role as a bricklayer, but felt that he would be capable of returning to a lighter, less manual job.
Using the evidence we had gathered, including the medical reports, we worked out how much compensation Paul should claim and started negotiating a compensation settlement with the other side.
The principal contractors made an initial offer to settle the claim for £25,000 compensation, but we advised Paul to reject this, as we felt the offer was far too low.
What was the Outcome?
After further negotiations, both defendants agreed to settle, and Paul was awarded £85,000 in compensation, which will help him access the specialist support he needs to manage his back pain.
The amount of compensation the case settled for reflected the medical expert opinion that our client was already suffering from a long-standing back problem before his accident at work.
*not his real name
Get in touch, today!
Fill in the form below to get in touch with one of our dedicated team members, or call our team today on: 0808 239 3227