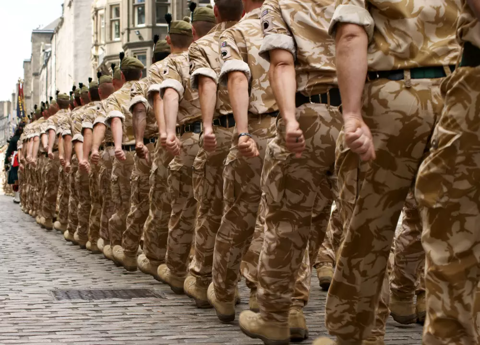 A group of MPs have warned that female service personnel are more likely to face bullying, harassment and discrimination, and that the complaints process is "woefully inadequate".
Many women who experience bullying, harassment and discrimination at work feel unable to come forward because the complaints system is "woefully inadequate".
According to the Defence Sub-Committee on Women in the Armed Forces, a group of MPs, 64% of female veterans and 58% of women who are currently serving have been treated this way at work.
But worryingly, many of these didn't report the bullying, harassment and discrimination they had faced.
Many of those who did complain said the experience was "extremely poor", and some alleged that their complaints were being swept "under the rug" by senior officers to "protect their own reputations and careers".
The handling of sexual assault and harassment claims was said to be particularly poor, which the report said often makes the trauma worse for victims.
Interestingly, nearly 90% of servicewomen and female veterans said they'd recommend the Armed Forces as a career.
But a similar amount said they believe women face more challenges at work than their male colleagues.
Civilian Court Should Handle Sexual Assault Complaints
MPs on the committee noted that conviction rates for sexual offences in military courts are four to six times lower than in civilian Courts.
Sarah Atherton MP, chair of the committee, said this "cannot be right" and that military women are "being denied justice".
The committee has called on the Ministry of Defence (MoD) to hand cases of rape and sexual assault over to the civilian Court system, rather than let them be handled in military Courts and the Service Justice System.
MPs have also suggested removing the chain of command from complaints of a sexual nature entirely.
Would you like to speak with one of our Military Claims Specialists?
Fill in your details and one of the team will call you back or if you need to speak now call us on 0808 239 0244