When Ms H was diagnosed with lung cancer in 2021, her and her son, Mark, were devastated to hear that the NHS had missed signs on an earlier x-ray. Sadly, she passed away, but if signs were spotted earlier, she could've had surgery and lived longer. While compensation could not reverse this situation, see how Mark was able to make a Medical Negligence claim with our help.
Ms H had suffered with Chronic Obstructive Pulmonary Disease (COPD) for many years, which is the name for a collection of lung diseases which tend to get worse over time and cause chronic coughing, chest tightness and shortness of breath. She took medication and used an inhaler to relieve her symptoms, but in 2019 she noticed that her symptoms were getting worse.
She decided to seek advice from her GP, who prescribed her with antibiotics, steroids, and another inhaler. Unfortunately, this did not relieve her symptoms, so an x-ray was arranged for her in late 2019. She was informed the results of the x-ray were normal.
However, her symptoms carried on and became more severe during 2020. She was in contact with her GP and COPD nurses in relation to her symptoms, and more antibiotics and steroids were prescribed. These still did not improve her condition, so another x-ray was arranged.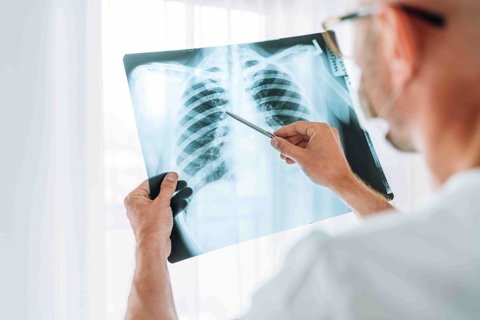 Ms H's Late Diagnosis of Lung Cancer
Ms H had her second x-ray in January 2021, which highlighted a lesion, which is a region in an organ, such as the lungs, that has suffered damage or abnormal change because of disease. After a further scan, she was sadly diagnosed with lung cancer. The doctors also told Ms H that the lesion was visible on her x-ray from two years previously, and that an investigation would be undertaken in the radiology department.
We rely on doctors and scans to get things right, but unfortunately Ms H is not alone in her situation as mistakes do happen in medicine and healthcare. While compensation cannot reverse the devastating impact of these mistakes, making a claim can help healthcare systems work towards improvements, to try and prevent this happening to others in the future. Our Medical Negligence lawyers can help you claim for yourself, on behalf of a dependant of yours, or a loved one who has died.
COPD and Lung Cancer
In Ms H's case, it was particularly important that she was closely monitored because COPD can increase the risk of lung cancer and the two are closely linked diseases, although it's still unclear whether one causes the other. COPD and lung cancer are more likely to appear at the same time, rather than separately, and the symptoms can be very similar.
The NHS Admit to Medical Negligence
The NHS trust admitted to, and apologised for, their breach of duty in failing to interpret Ms H's x-ray correctly. If they'd have reported this, they admitted that Ms H would have been sent for a follow-up x-ray and would have got an earlier diagnosis of lung cancer.
If Ms H was diagnosed with cancer earlier, she would have had further treatment options and would've had more chance of survival. The NHS explained that if they'd diagnosed Ms H earlier, her tumour would have been operable, and would have had more than 50% chance of cure.
If Ms H had undergone surgery, she would have made a good recovery. Even though she would've had breathing difficulties due to the removal of part of her lung, she would've been able to return to normal activities and her quality of life would've been more-or-less the same.
Instead, she had to endure chemotherapy and radiotherapy which was extremely disruptive to her life, as well as incredibly painful.
Ms H was able to receive the NHS's apology, but sadly she passed away during the proceedings.
How our Lawyers Helped Ms H's Son Claim for Compensation
As Ms H's husband had also passed away, her son Mark (real name not used) was entitled to compensation for the medical negligence his mother experienced.
Mark got in touch with us, and we assessed his situation and took the claim forward. We asked an expert professor to prepare an independent report on whether the medical negligence had an adverse effect on his mother. The professor's report supported the information the NHS had admitted to.
The NHS were happy to work with us and Ms H's estate received £95,000 in compensation. To reach this settlement, the NHS took into account the pain and suffering Ms H went through with multiple surgeries and chemotherapy, which could have been otherwise unnecessary. Mark was also compensated for his mother's funeral costs and the care he'd given his mother at the end of her life.
How we Can Help if You or a Loved One Has Been Through Medical Negligence
The compensation Mark received couldn't bring his mother back or reverse what had happened to her, but it helped him to get a sense of justice.
If you or your loved one received care that fell short of standard, or had a late diagnosis of cancer, you might be able to make a claim for compensation. Our Medical Negligence lawyers are specialists in helping people who have been through this. It can be confusing to know who is at fault, and what your legal rights are, but we pride ourselves on our ability to keep things straightforward and simplify the process to take the stress out for you.
We know that every situation is different, so get in touch today and we'll listen carefully and see how we can get you the best possible settlement.
Get in touch, today!
Fill in the form below to get in touch with one of our dedicated team members, or call our team today on: 0808 239 6043