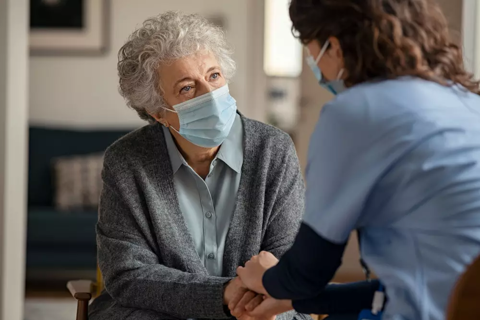 Coronavirus Act Explained for Advocates
Posted on: 6 mins read

In this time of uncertainty it is important that the most vulnerable of us remain protected and their voices continue to be heard.
In order to support Advocates to continue their role as effectively as possible, we've produced this guide to explain the changes brought about by the Coronavirus Act 2020, how the Court of Protection is responding to them and a few suggestions about creative ways to communicate with your clients.
Coronavirus Act 2020 and Changes to Primary Legislation
The Coronavirus Act 2020 (the Act) has three main aims:   
To support the slow of spread of the virus
To reduce the administrative and resourcing pressures on the health and social care sector
To increase public sector staffing levels.
Changes to Care Act Duties
The Act allows for the duties under the Care Act to be suspended where it's necessary to do so. These suspensions have been termed 'easements'. The duty to carry out an assessment is one of the most substantive duties to be suspended. This includes all duties linked with carrying out an assessment, including the duties to:
Provide a written record of the assessment
Carry out a carer assessment
Carry out a transition assessment
Give effect to the persons preferred accommodation option.
The assessment for financial eligibility has also been suspended with the caveat that should the Local Authority wish to charge someone for all or part of their care, then a financial eligibility assessment will be carried out.
The duty to carry out care planning is also suspended, but if the care plan is changed or reviewed, the body making this decision is still under a duty to consult with the person concerned.
The duties for Advocacy, safeguarding responsibilities and Local Authority duties to provide information and advice remain unaffected, along with the duty to promote wellbeing and services for meeting care and support needs.
The Care Act easements should only be used by a Local Authority when it is essential to do so. If the Local Authority does wish to use the easements, this must be agreed with the Director of Adult Social Services in conjunction with the Principal Social Worker and a record of the decision must be made.
Continuing Healthcare
As with the Care Act duties above, the Act also allows for suspension of Continuing Healthcare (CHC) duties. Specifically, under the Act, the NHS can postpone CHC assessments until the end of the emergency period. Individuals on acute hospital discharge pathway and in community settings, CHC assessments are no longer required until the end of the COVID-19 emergency period.
Mental Capacity Act
The Coronavirus Act does not make any changes to the Mental Capacity Act or the deprivation of liberty safeguards. However, Guidance for Hospitals, Care Homes and Supervisory Bodies has been published which confirms that the process for deprivation of liberty will likely not apply to the vast majority of people who lack mental capacity to consent to treatment but require it. It's stressed in the guidance that any decisions being made on behalf of someone who lacks mental capacity must be made through a best interests decision.
Mental Health Act
The main change made by the Coronavirus Act to the Mental Health Act is that it's now only necessary to have one medical recommendation for a person to be detained under s2 or s3 of the Mental Health Act 1983. This will only be the case where it would be impractical or would cause unnecessary delay to get the two medical recommendations usually required. If taking the decision that only one recommendation is needed, there must be a record of this decision made.
Children and Families Act (SEND provision)
The changes proposed to the Children and Families Act are not yet in force. When they do come into force, the main changes are that the duty under s42 to secure provision will be amended to merely require that 'reasonable endeavours' are used. The duty to complete reviews of Education, Health and Care Plans (EHCP) will be suspended and the duty under s42 to admit a young person to an educational placement named in Section I of the EHCP will also be suspended.
These changes are to be put in place for one month before being reviewed.
Coronavirus and the Court
As the majority of Advocates will now be aware, all future hearings are now to be heard remotely unless there is a genuine urgency and it's not possible to conduct a remote hearing. This follows the substantial Remote Access to The Court of Protection Guidance issued by Hayden J on 31 March 2020.
There is no suggested single form of technology to be used for the remote hearings. These can take place by Skype, Zoom or any other platform that is deemed appropriate. Usually the Judge will set out their preference for interruptions at the start of the hearing and all attendees who are not speaking should place themselves on mute. If you are joining a remote hearing it is important that you test your video and audio needs beforehand to make sure it works properly.
Attendance of P at remote hearings has been given lengthy consideration. The conclusion is that if P lacks capacity and is represented by a litigation friend, there is generally no need for attendance of P at remote hearing. That being said, the parties are encouraged to be imaginative about bringing P into the process through appropriate mediums.
Ultimately, the question of P's attendance at remote hearings is matter for P's legal representative and/or their litigation friend. If a judicial meeting with P is necessary, remote conferencing technology should be used to facilitate that meeting. The meeting should be recorded and made available to the other parties.
Suggested Ways of Communicating
Each person is different and consideration must be given to their specific needs when deciding how best to communicate remotely. For some vulnerable people, speaking over a telephone or video conference would be appropriate and so these methods of communication should be used wherever possible.
Another option to consider is recording a video which could then be sent to the placement to be shown to P. This is something which seems to work well with those who are non-verbal or have very limited verbal communication. The obvious limitation of this method is that they can't respond directly to you but hopefully are comforted knowing that progress is still being made and they have not been forgotten.
Writing a letter to P may also be an appropriate method for obtaining their wishes and feelings. Most people will like to receive a letter to know that things are still progressing. For those who are non-verbal or have limited verbal communication they may be better able to respond to a letter than they would to engage with a telephone or video call.
Providing a letter also makes sure that people who have issues with memory can be reminded of the letter by their carers and reconsider the information that has been given. The letter could be sent to the care home under cover of an email, then it can be printed and given to P. If they can respond to your letter, this will provide evidence of their clear wishes and feelings.
We are interested in hearing from Advocates who have been successfully using any alternative methods of communication with their clients. If you have any examples of this please contact us.
Get in touch, today!
Fill in the form below to get in touch with one of our dedicated team members, or call our team today on: 0808 239 9764