Repetitive Strain Injury Claims
For free legal advice call our Personal Injury Solicitors and we will help you. Ask if we can deal with your claim on a No Win, No Fee basis.

We're rated
'Excellent'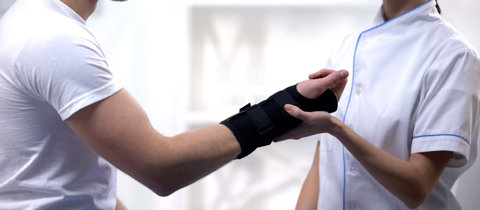 If you suffer from a work related repetitive strain injury (RSI), our Personal Injury Solicitors can help you claim compensation and get the treatment you need.
RSI is a pain you feel in your muscles, nerves and tendons after repetitive movement and overuse and is often linked to unsafe working practices. This can be very painful and debilitating over time. If it can be proved that your working conditions caused your injury, you may have grounds to make a claim for compensation.
Our friendly, supportive Personal Injury Solicitors are specialists in handling RSI claims and offer a free claims assessment. You can speak to us with no obligation and we can let you know if we think you have a claim for compensation. Usually we can handle your claim on a No Win, No Fee basis which means that if the case is not successful you don't pay anything.
Our team are highly experienced and respected. We're truly committed to getting the best possible compensation and rehabilitation support for clients making an RSI claim.
Why Choose Simpson Millar?
What is the Claims Process?
Free Consultation

Our team of Solicitors offer a free, no obligation consultation. We can talk with you about your situation, how we can help you and possible funding options, such as No Win, No Fee.

Investigating Your Claim

If we can help you in your claim for compensation and take on your case, your Solicitor will start a thorough investigation.

Investigating Your Job In Detail

We'll investigate your job in detail and look at the physical demands created by it. We'll look at everything from the type of equipment that's used and the repetitive nature of your job, to the length of your working hours and rest periods.

Medical Report

We'll also instruct an independent medical expert, usually a Consultant Orthopaedic Surgeon or a Consultant Rheumatologist, to look at your repetitive strain injuries. They will prepare a report into your condition, which will help us establish fault and what type of support you need in the future.

Settling Your Claim

If it's a complex case or an employer won't accept responsibility at first, it could take some time to resolve but we'll do everything we can to settle it as quickly and efficiently as possible, ideally without going to Court.
FAQs about RSI Injury Claims
To successfully claim compensation for work related RSI, the following 3 things must be proven:
Your employer ought to reasonably have foreseen that the work you were asked to do carried a risk of causing a repetitive strain injury;
They could and should have taken steps to avoid or minimise the risk of RSI;
That your repetitive strain injury was caused by your employer not taking these steps.
You must also have a diagnosis of a recognised repetitive strain injury, such as tennis elbow or tendonitis.
You may want to find out if anyone else at your work experienced similar problems. This can help with your claim if they had symptoms too.
We can gather statements from past or present colleagues and if other members of staff doing similar work are also suffering from RSI, it may suggest that your workplace is the cause of the problem.
It's also often the case that symptoms of work-related RSI improve when people aren't performing the work, either on holiday or on sick leave. Again, this would point towards the workplace being the problem as you won't be doing the same repetitive movements when you're on leave.
You have 3 years from the date when you knew, or reasonably ought to have known, that your RSI symptoms were caused by your employment, to issue Court proceedings.
If that date has passed, then we may be time barred from claiming on your behalf.
Due to this time limit, we'd recommend that you speak with our Personal Injury Solicitors who specialise in RSI claims as soon as you can.
Our expertise can make the difference between winning and losing and maximising how much compensation and rehabilitation support you receive. The sooner you act, the easier it should be to gather evidence that supports your claim.
Most RSI claims can be funded through a No Win, No Fee agreement - ask us for details. Alternatively, your trade union may cover any fees if they've referred you to us.
Get in touch, today!
Fill in the form below to get in touch with one of our dedicated team members, or call our team today on: 0808 239 0144