Occupational Dermatitis Claims
If you developed Occupational Dermatitis because of exposure to irritants at work, get in touch with our No Win, No Fee Industrial Disease lawyers today. 

We're rated
'Excellent'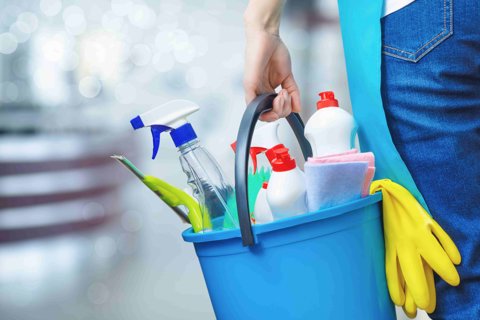 Occupational Dermatitis can develop when you are exposed to irritants at your workplace, which can either cause your symptoms or make them worse. Irritants can include chemicals, oils, fuels or soaps.
Our expert Industrial Disease lawyers could help you claim compensation for this, as your employer has a legal duty of care to protect you from harmful substances which can cause dermatitis.
Dermatitis is a painful and irritating condition, which can be very debilitating and can get in the way of you carrying out everyday tasks and even sleeping properly. It can also have an impact on your mental health, as it can build up severely on your hands, face and other visible areas.
It causes symptoms such as:
Redness and scales, or purple/greyness on the skin;
Dryness and itching;
Pain, burning or stinging sensations;
Coarse, inflamed and cracked skin;
Bleeding and further blisters and sores;
Skin infections, which can lead to pus discharge, and feeling generally unwell and feverish;
Permanent scarring and disfigurement.
You could be entitled to make a claim for compensation, as well as claiming for Industrial Injuries Disablement Benefit. We deal with most of these claims on a No Win, No Fee basis.
Our Industrial Disease lawyers have a proven track record in achieving compensation for people, to help them access treatment they need, or cover loss of earnings if they've had to take time off work.
What Causes Occupational Dermatitis?
Occupational Dermatitis can be caused by exposure to many different types of irritants at work. If you're exposed to a strong chemical, dermatitis can appear within 48 hours. Sometimes, milder substances like soap and even water can cause dermatitis – if you are exposed to these frequently, it can take longer for problems to appear.
People working in the following jobs are particularly at risk of developing dermatitis:
Factory workers, if you're exposed to chemicals, glues, soaps, oils and other irritants;
People who have had over-exposure to water/bleach, e.g. hairdressers, cleaners or scientists;
Mechanics, construction workers and engineers;
Doctors, nurses, dentists and other healthcare workers, from exposure to latex gloves or excessive hand washing. Hand washing requirements during Covid-19 have made this worse for some people;
Agricultural workers, due to fertilisers and pesticides;
Chefs or waiting staff who are exposed to food, cleaning chemicals and water;
Jobs that involve scuba diving or swimming, due to rubber in goggles/face masks;
Florists or gardeners, because of allergenic plants.
If you believe your employer did not put enough safety measures in place to protect you, or did not provide the right equipment or training, get in touch with our specialist Industrial Disease solicitors. They will use their expertise to let you know if you could be eligible to make a claim.
Our clients rate us as
'Excellent'

4.5 out of 5 based off 2457 reviews
What Should Your Employer Do to Prevent you from Occupational Dermatitis?
Employers have a duty of care to protect you from health risks at work, under the Health and Safety at Work Act, including the risk of Occupational Dermatitis. The Control of Substances Hazardous to Health Regulations 2002 state that employers should carry out a risk assessment if their employees work with substances that could cause these issues.
They should control these risks with the following measures:
Providing you with the correct training and information on dangerous substances;
Providing you with PPE, such as barrier creams, masks, gloves and clothing;
Making sure there is enough ventilation, as hot and cold conditions can make dermatitis worse;
Using alternative substances where possible.
There are certain things you can do to ease your Occupational Dermatitis symptoms or prevent them from developing, for example:
Avoiding or reducing contact with the irritant as much as possible;
Fully drying your hands after washing them or being exposed to water;
Using moisturisers or prescription steroid creams;
Checking your skin regularly;
Wearing Personal Protective Equipment (PPE) at work;
Asking your employer to change or remove the irritant completely if it's not necessary for your job.
It's important to remember PPE, such as masks or latex gloves, can have an adverse effect on Occupational Dermatitis, so the PPE you're provided with should be right for your job. For example, fabric gloves aren't waterproof so they aren't suitable for working with harmful liquids.
If you think your employer has been negligent in their duty of care or if you're unsure, get in touch with our expert Industrial Disease team today for a Free Case Assessment, and we'll advise you on the next steps.
Why Choose Simpson Millar?
How the Occupational Dermatitis Claims Process Works
You get in touch with us

Get in touch with our Industrial Disease team for a Free Case Assessment. We'll find out how your Occupational Dermatitis has affected your life and tell you about the next steps.

We'll contact your workplace or their insurers

If we think you've got a chance of getting compensation, we'll get in touch with your workplace's insurance company, to ask them to admit liability for your skin condition. This might be another firm or supplier if you were working with third-party substances or chemicals, depending on your situation.

We'll gather evidence

We'll start to collect evidence to prove that your Dermatitis was linked to your workplace's actions or negligence. This might include photos of your skin condition or witness statements from your colleagues. Try and take photos of your dermatitis as this can help to strengthen your case and show how severe it is.

You'll get a medical assessment

We'll send you to an independent medical expert, who will assess your Dermatitis, find out when it first started to develop, and how it has affected your life. We try to intervene early if we think you'd benefit from special treatment and care.

We'll work out the compensation amount

Based on your medical assessment and the way the dermatitis is affecting you, we'll work out how much compensation you're owed and negotiate with the other party.

We'll settle your claim

If the other party does not accept responsibility, then the claim may have to go to Court. Fortunately, this doesn't happen with many Industrial Disease claims. If it does, we'll keep you informed and provide expert advice throughout the whole process.
FAQs about Occupational Asthma Claims
We might be able handle your claim on a No Win, No Fee basis. This means that if we don't win your case, you won't need to pay us, so it can take away financial stress for you.
Your final compensation will take into account any treatment and care you need now and in the future, or any costs you've already incurred.
Over the years our Industrial Disease team have achieved millions of pounds in compensation for people affected by work-related diseases and conditions, including Occupational Dermatitis.
The exact amount of compensation you could get will depend a number of factors, such as:
How severe your condition is;
How the condition is affecting your daily life, and how it could affect you in the future;
Any income you've lost from having to take time off work, or money you've spent travelling to appointments;
Any extra support or medication you might need in the future.
Our lawyers will put you first in your claim, and we are experts at fully investigating your situation and taking all factors into account to work towards the maximum compensation.
You will have three years from when you were first diagnosed with your condition, or started experiencing symptoms, to make a claim for compensation.
Try and get in touch as soon as you can, so our Industrial Disease Solicitors can advise you on your specific situation. Our team are experts and will fill out all the necessary paperwork on your behalf to ensure you can meet all the relevant deadlines.
If you already had a risk of developing dermatitis, or already suffer with a skin condition, this should not put you off getting in touch with us to see if you could make a claim for compensation.
Some people are already at risk of developing Dermatitis or are prone to allergies. You could have:
A family history of dermatitis/eczema;
An existing skin condition such as atopic eczema;
Other allergies, hay fever or asthma.
You can also become 'sensitised' and develop an allergy to a certain substance, which is likely to become permanent. If you have contact with that substance again at work, it can cause contact dermatitis again.
However, despite these factors, workplaces must still comply with health and safety measures at work and have a legal duty of care to prevent or reduce your exposure to harmful substances that can cause Occupational Dermatitis.
No, an employer cannot legally fire you for making a compensation claim against them. Laws are in place which mean that employers must have a valid reason for firing you, so it's very unlikely they would fire you for making a claim. If they did, you'd have the right to make an unfair dismissal claim.
You might be worried about making a claim directly against your workplace, but employers must have liability insurance in most cases, so any compensation will come from the insurer.
If the company you're claiming against has gone out of business, don't worry, you still may be able to make a claim. We could still get in touch with your old workplace's insurance company, and the compensation would come from them.
We have an extensive database of companies and insurers we've made claims against over the years, so this can help us find the company responsible and work towards securing you compensation quicker.
The terms 'eczema' and 'dermatitis' are often used interchangeably and it's possible to have more than one type at the same time. 'Dermatitis' is a broader term which means 'skin inflammation' and eczema is just one type of this, as it is a sub-group of dermatitis.
You might also suffer from 'atopic' dermatitis or eczema, which is usually inherited; they are not necessarily caused by contact with irritants but can be made worse by it.
A doctor or dermatologist can diagnose which condition you're suffering from.
Either way, you may be able to make a claim for compensation if your skin condition was caused by, or related to, exposure to irritants at your workplace. Get in touch today to get our Industrial Disease team's expert advice.
Compensation you could receive will take into account any pain and suffering the Occupational Dermatitis has caused you, and any way it has affected your life. This includes both physical pain and any impact it has had on your mental health, as it can cause you to become self-conscious. Compensation can also help you recover any costs you have already incurred, or anything you may need in the future, for example:
Money spent travelling to appointments;
Creams, medicines, bandages or protective gloves you've bought to try and treat your dermatitis;
Any income you lost through having to take time off work;
The costs of retraining if you have recurrent dermatitis and need a complete career change;
If your dermatitis is severe, it can have an impact on you carrying out simple tasks in your daily life, such as writing, cleaning, hygiene routines and cooking. There might be lots of tasks you have to avoid, or jobs that cause you pain and discomfort. Compensation will also account for this, and you could access different types of care, medicine or aids and adaptations to help your condition.
Get in touch, today!
Fill in the form below to get in touch with one of our dedicated team members, or call our team today on: 0808 239 0144