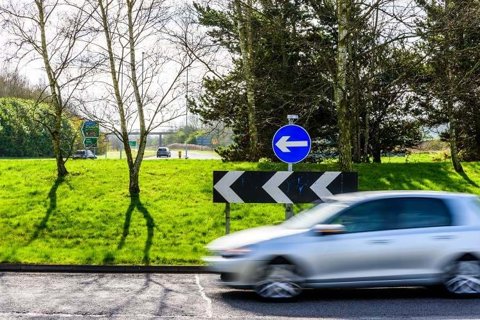 Cyclist Injured in Accident Gets Compensation
Posted on: 2 mins read
Leanne had just taken up cycling as a new hobby when she was thrown from her bike in a collision with a car that failed to give way to her at a roundabout.
After landing heavily on the road surface, Leanne immediately felt intense pain in her left foot and ankle and was taken to the A&E department at Blackpool Victoria Hospital. Leanne's ankle joint was dislocated and she had suffered multiple fractures to the bone.
It took two attempts to realign Leanne's ankle bone while she was on gas and air. As well as the physical pain this caused, Leanne was also emotionally affected as she spent 10 days in hospital with no visitors due to Covid which left her feeling extremely low.  
How we Helped
Leanne is a member of the union USDAW and spoke to us after they advised getting in touch about starting a personal injury claim.
At the time of the accident, Leanne had worked at Tesco for over 30 years but was forced to take several months off to recover. This period of time was incredibly stressful for Leanne as she worried the physical demands of her job would mean she wouldn't be able to return.
We referred Leanne to a medical expert who confirmed she would be at a disadvantage for any jobs that involved a lot walking and standing. Leanne has since been on a phased return to work. But as anticipated, she wasn't able to go back to her previous role and has been working reduced hours on the store checkouts.
Medical evidence we collected also showed that Leanne was likely to suffer from residual pain for at least two years after her accident and there is a 50 percent chance that she will develop arthritis in her injured ankle.
Leanne was later referred to a psychologist for an examination as she had suffered mood changes, flashbacks, sleep disturbance and anxiety in the months after the accident.
We considered all of this as part of Leanne's claim, as well as the impact on her social life as she told us she struggled with missing special occasions and seeing everyone "getting on with daily life" while she was recovering.
The Outcome for Leanne
Leanne was first offered £50,000 in compensation before reaching a final settlement of £125,000.
She plans to use this money to pay off her mortgage and buy a campervan with the aim of starting her own business and spending more time with her family in the Lake District. We're thrilled at this result for Leanne and we wish her all the best with her future ventures.
"I was involved in a road traffic accident a year ago … I was appointed Adele Farnaby and she has been brilliant … thank you Adele for all your support through such a hard time in my life"

Leanne

Client
Get in touch, today!
Fill in the form below to get in touch with one of our dedicated team members, or call our team today on: 0808 239 6443