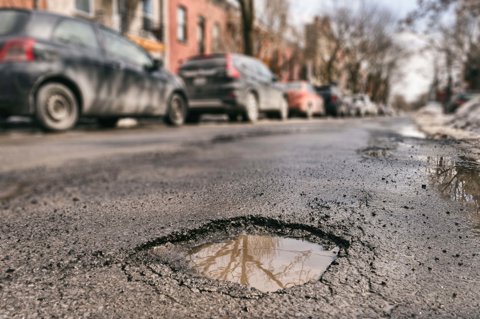 Almost a Fifth of English and Welsh Roads are 'Structurally Poor'
Posted on: 2 mins read

For many people potholes are an annoyance, but they also present a real danger to road users if the right maintenance isn't carried out regularly.
In the latest ALARM survey carried out by the Asphalt Industry Alliance (AIA), it was revealed that the cost of the 'pothole repair backlog' in England and Wales had increased by nearly 25% in the last year to £12.64 billion.
This was reflected by the fact that nearly a fifth, or 18 percent of English and Welsh roads were deemed 'structurally poor' with less than five years of use remaining.
Motorists in towns and cities across England and Wales have suffered as a result of the ageing road network. In Trafford, reports of potholes increased by more than 20 percent in 2021, leading to an "extensive programme of repairs".
Potholes are considered unsafe once they have a depth of 22mm on a footpath or 40mm on a road. But repairs should be carried out more frequently if the pothole is located somewhere with heavy traffic or is in an area that is used by vulnerable road users.
If you've suffered a pothole injury, you might not be sure if you can make a claim. Our Personal Injury Solicitors will listen to your situation as part of an initial claims assessment and let you know if we can help you.
What Should I do if I've Suffered a Pothole Injury?
Get medical support

The most important thing to do if you've suffered a pothole injury is seek medical advice. Even if you don't think your injuries are severe, early assessment by a medical professional can prevent bigger problems arising in future.

Having documented evidence of the extent of your injuries could also help you if you decide to make a Personal Injury claim.

Take pictures

If you're able and if it's safe to do so, you should take photos of the pothole that caused your injury. It can also be helpful to take measurements of the pothole or give perspective by including a ruler in your photos.

A pothole could be filled in after your accident, so it's important to capture this evidence if you can.

Get witness contact details

If there was anyone around when your accident happened, having their contact information could support your claim. It's also likely that if they're local to the area, they'll have strong opinions on the pothole not being repaired, so it's worth getting their input.

Report it

You should report your accident to the Council, Local Authority or Highways England. There's also an option to report a pothole in England, Scotland and Northern Ireland on the GOV.UK website.

Seek legal advice

Our Personal Injury team will take the details of your accident and injuries before letting you know if we can help with your claim as part of an initial claims assessment.

We'll also advise you on whether we can handle your case on a No Win, No Fee basis. 
Are There any Time Limits for Making a Claim?
Generally, you'll have three years from the date of your accident to make a Personal Injury claim. But it's best to get legal advice as early as possible, especially as potholes can be filled in at any time, making it difficult to gather evidence.
If you're making a claim on behalf of a child, you'll have three years from when they turn 18 years old to make a claim for compensation.
In cases where the person who has been injured doesn't have mental capacity, the usual time limits may not apply. We can advise you on this.
How Much Compensation Will I Receive From a Pothole Injury Claim?
Any compensation you receive from your pothole injury claim will be divided into two main categories:
General Damages - covering your pain and suffering as well as the impact your injury has had on your life.
Special Damages – taking into account any financial losses related to your accident, including time off work, transport to medical appointments or loss of earnings.
As with any Personal Injury claim, the amount you receive in compensation will ultimately depend on the circumstances surrounding your accident and the severity of your injuries. For more advice, get in touch with our Personal Injury team.
Get in touch, today!
Fill in the form below to get in touch with one of our dedicated team members, or call our team today on: 0808 239 3227