The No Fault Divorce Bill was backed by MPs in 2020 to take the blame element out of the divorce process so that separating couples could hope to divorce on friendlier terms.
This week, the Government confirm that the Bill will come into force on 6 April 2022.
As the original expected pass date for the Bill was the autumn of this year, this is disappointing news for couples who were patiently biding their time to reduce conflict in their divorce.
But we do welcome having a set date for the no fault divorce option, and our team of expert Divorce Solicitors will use this as a guide to help separating couples in the future.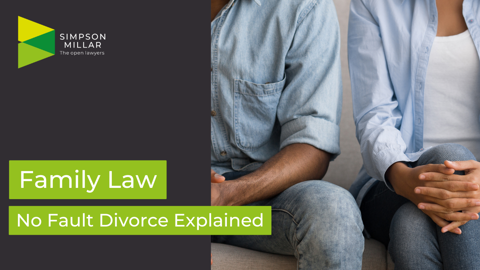 Expert Divorce Solicitor, Lorraine Harvey, tells everything you need to know about no fault divorce in UK law.
No fault divorce: What are the key changes?
Divorcing couples will no longer need to use one of the five previously set out grounds for divorce
The only requirement will be that the marriage has "irretrievably broken down"
Couples can apply for divorce together if they both agree the marriage has broken down
If one person has applied for divorce, they'll be known as the applicant and the other person the respondent
The option for one person to defend the divorce has been taken away
But a divorce can still be disputed
The decree nisi and decree absolute have been replaced by a conditional and final order.
There is a new timeline - any divorce application will take a minimum of 26 weeks to be processed.
How Will a No Fault Divorce Work?
Now we know when No Fault Divorce will come in, let's look at what it could mean for you:
At the moment, if you want to get a divorce in England or Wales, you have to state one of the 5 Grounds for Divorce. Unless you've been separated or deserted for 2 years or more, you will have to state 'Adultery' or 'Unreasonable Behaviour' as the reason for your divorce.
When the No Fault Divorce Bill is passed, you can divorce simply on the basis that your marriage has broken down and is irretrievable.
Apply for Your Divorce Together
If you apply for a divorce now you are the petitioner, who will be issuing the divorce against the respondent. After 6 April 2022, you'll have the option to apply for your divorce together if you both agree separation is right for you.
Your Ex Can't Refuse to Give Consent
If you issue your divorce proceedings, and your former partner doesn't like the reason you've given they can refuse to consent to your divorce. Without consent, you'd have to wait until you've been separated for 5 years before you could get a divorce.
With the No Fault Divorce Bill, your former partner can't contest the divorce, so you won't have to be tied to your ex for years after your relationship breaks down.
After you apply for the Decree Nisi, you have to wait 43 days (6 weeks and 1 day) to apply for the Decree Absolute, which will finalise your divorce.
One side of the debate around No Fault Divorce Bill was that making the process quicker and simpler could ruin the sanctity of marriage. To counter this argument, the Government proposed a minimum timeframe of 20 weeks between the application and finalising of the divorce.
This will give you a 'period of reflection' in which you and your former partner could work out your differences, or if not then you can go ahead and finalise your divorce after this time.
Out with the Legal Jargon
The Bill will change the language used around divorce from Decree Nisi to Conditional Order and Decree Absolute to Final Order. You can read about the difference between a Decree Nisi and Decree Absolute here.
At Simpson Millar, we are the Open Lawyers, which means ditching the complicated legal jargon and speaking to our clients in plain English. So we welcome these changes as a way of making divorce simpler, and more accessible for everyone.
Get in touch, today!
Fill in the form below to get in touch with one of our dedicated team members, or call our team today on: 0808 239 3465