How Do I pay for my Divorce and Financial Order?
For initial legal advice contact our Divorce Solicitors and we will help you.

We're rated
'Excellent'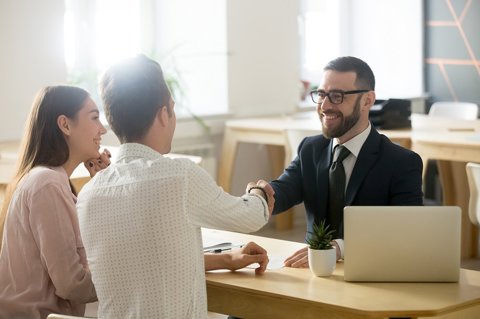 Only a Financial Order will give you a clean financial break in divorce, but worrying that you might not be able to afford one is a stress that can be avoided. Dealing with money and other financial arrangements can be a real source of conflict when separating, so we think it's really important that you know your options.
At Simpson Millar, our Family Law Solicitors can make sure that dealing with separation and divorce is as stress free as it needs to be, because no matter what your situation is, you should feel like you can move on with your life and be financially secure in your future.
We offer a personal and professional service that suits your individual situation and we're completely open about our fees. We have a number of different types of fees to suit your needs, including bespoke fixed fees and pay as you go arrangements, as well as various payment options.
Adapting to supporting yourself financially and independently after divorce can be a big change, but it's important that you get a financial settlement that is fair, meets your needs, and supports your lifestyle.
Ways you can pay for your Divorce and Financial Order
Whether it's the Bank of Mum and Dad, siblings or friends, many people turn to their loved ones first in times of financial worry. While this may seem an obvious and easier choice for some, borrowing informally needs careful consideration.
This is because although the Court will consider any loans due to be repaid with other debts when helping you sort your financial issues, proving that you've borrowed off a friend or relative can be difficult without the official documentation that comes with commercial loans.
We recommend getting a letter from your 'lender', outlining how much you have borrowed and when you will pay it back before you receive the money into your account, which you will probably need to use as evidence in your financial proceedings.
This may feel silly if you're just borrowing off your Mum or Dad, but it's worth having it written down to show that the money has been borrowed. It's important to know that even with this evidence, the Court may consider that such monies are "soft loans" and prioritise repayment of other debts first.
If borrowing from relatives isn't an option for you, you could:
Get a loan from a bank
Use a credit card company
Speak to your mortgage lender about using the equity of your home
The last option might be complicated if you and your former partner are joint owners of your home, and you'll need to speak to them about this first. Their agreement will likely depend on whether they expect a share of the property at the end of the divorce.
You might be concerned about the interest rates on taking a loan, but depending on your personal circumstances and credit history, you may have a number of options. You might also be eligible to get low rate or even 0% interest credit cards to cover short-term borrowing.
Commercial loans are an option to consider and although they may attract interest, you can take them out on a formal basis. This means the lender can make sure the loan is suitable and affordable for you, so that you can arrange for repayment over the duration of your case.
Some insurance policies cover certain legal expenses or at least advice on legal issues. This is rare but it is always worth checking to see if you could fund parts of your divorce and financial settlement this way.
Many people have substantial assets, for example in your pension pots or the equity in your family home, but don't have the upfront cash to pay for divorce costs.
There are an increasing number of commercial firms who offer Litigation Loans, which are specifically intended to provide financial support for divorce financial proceedings.
You can repay the funds and interest from your share of the assets at the end of your divorce. This is often a good option if you don't have the income to pay for a loan whilst your case is ongoing, but keep in mind that interest rates are higher than commercial loans.
Although you and your former partner may not agree on your final financial settlement, you might be able to agree to cover your legal costs from the assets you have available and take an agreed sum to pay for what you need.
This means you can keep costs in mind, avoid paying interest on commercial loans and know that you are not going into additional debt to pay for them.
A Legal Service Payment Order is an application you can make early into your divorce and financial proceedings that means your former partner may have to pay for your legal costs in divorce.
You'll need to show the Court that you can't afford to pay for the divorce proceedings and your application will depend on a number of conditions which include finding out if there are any other alternatives.
Although increasingly common, getting a Legal Service Payment Order is difficult because of these conditions.
We don't recommend that you try to deal with your divorce yourself, unless you have get legal advice and understand all of your options.
Our Family Law team have seen far too many divorces that miss out important elements of the financial settlement, such as pensions, or don't include a Clean Break Order, leaving finances uncertain or left to be resolved many years after.
It's also important to keep in mind that if your former partner uses a Solicitor, you might find the process difficult and emotionally draining.
We recommend that if you intend to represent yourself, you should get as much legal advice as you can beforehand to make sure that you understand what is at stake and that any proposed financial settlement is as fair as it can be.
Before committing to borrowing money to cover the cost of a Court application, you should try mediation if you can. We can help you find a suitable mediator, refer your case to them and advise you about anything discussed at the Mediation Information Assessment Meeting (MIAM).
The Government recently introduced a £500 Mediation Voucher Scheme that you can use where there are children involved in your divorce. This means that if you have children and you're struggling to agree both child and financial issues, you can use mediation to come to an arrangement at a reduced rate.
Even if you don't feel like mediating, unless you are exempt for reasons of urgency or domestic abuse, you'll have to prove that you've spoken to a Mediator before you can make an application to Court for financial or childrens issues. It is a cheaper alternative to Court proceedings so it's always worth a try.
Why Choose Simpson Millar to Help You?
Get in touch with our team of expert Family Law Solicitors today for an initial consultation and discuss your options.
Get in touch, today!
Fill in the form below to get in touch with one of our dedicated team members, or call our team today on: 0808 239 3465